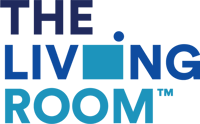 We created The Living Room™, the first-ever (and award-winning!) mental health awareness pop-up shop meant to inspire dialogue on mental health, by combining the elements of an interactive art installation and performance venue, outfitted within the coziness of a living room. It debuted in downtown Jacksonville, Florida for Mental Health Awareness Month 2019, welcoming 1,500 people and sparking intrigue for future iterations in other cities. Our goal is to "take it on the road," so please do reach out if you have interest in bringing this groundbreaking installation to your community.

The Nobody's Happy comedy tour™
This was a major awareness initiative and fundraiser first undertaken in 2018. Three college friends reunited to spread awareness about mental health by speaking the truth and telling jokes. The Nobody's Happy Comedy Tour™ raised both money and awareness to support Stronger Than Stigma®'s mission of breaking down barriers that keep people from reaching out for the help they need. It was an innovative, millennial take on grassroots organizing, expanding our reach and encouraging conversations about mental health in order to change public perception by eliminating stigma. In 2019, the tour was reprised with performances in The Living Room™ pop-up shop. The Nobody's Happy Comedy™ brand continues to live on, and one-off shows can be created for any event.
How to be a Feelings Ninja™: Coping through Comedy
Our signature workshop in which we use comedy, specifically improv, to teach coping skills in a fun, supportive environment. This furthers our mission in the area of mental health education by equipping participants with coping skills to help them handle life's challenges. We've led this workshop for high schoolers enrolled in the Duval County Public School System, for medical school students at the Sidney Kimmel Medical School at Jefferson University, for mental healthcare professionals at the Northeast Florida Council on Alcoholism and Drug Abuse (NEFCADA) conference, and for comedians at Baltimore Improv Group (BIG). It can be modified based on the knowledge base of participants and works well for situations that call for an interactive, experiential learning experience (and fun! Lots of fun!).
The Stronger Than Stigma® team addresses audiences of students, practitioners—you name it—for the purposes of spreading mental health awareness. Previous speeches include a TEDx talk delivered by Founder and CEO, Gabrielle Magid, titled, "The Stigma is Real."
Prices available upon request. Please contact us at hello@strongerthanstigma.org.